Do you have set days and times that you post on social media?
Perhaps you don't and you just post as and when the feeling takes you instead?
This week, I'll be answering a question from the lovely Angela Diac and that is, 'What are the best days and times to post to LinkedIn?' (Angela is an amazing online counsellor who specialises in helping people find their way through loss and grief so please go connect with her over on LinkedIn.)
For a quick answer, check out my Social in 60 Seconds video below, and if you want a more in-depth answer be sure to keep reading!
What do the statistics say?
Prior to the Covid-19 pandemic, the statistics showed the following days and times as being the best (and worst) for engagement on LinkedIn:
Best times: Wednesday from 8–10 a.m. and noon, Thursday at 9 a.m. and 1–2 p.m., and Friday at 9 a.m.
Best days: Wednesday and Thursday
Worst day: Sunday
As a professional network, you probably won't be surprised to hear that posting during the work week will generate the most engagement overall. Tuesday and Friday (8am – 2pm) will see the most reliable engagement; however, Monday is slightly lower which could be explained by post weekend work busyness. In general, engagement is lower before 4am and after 8pm, too.
Check out this graphic from sproutsocial that shows LinkedIn engagement broken down by day and hour.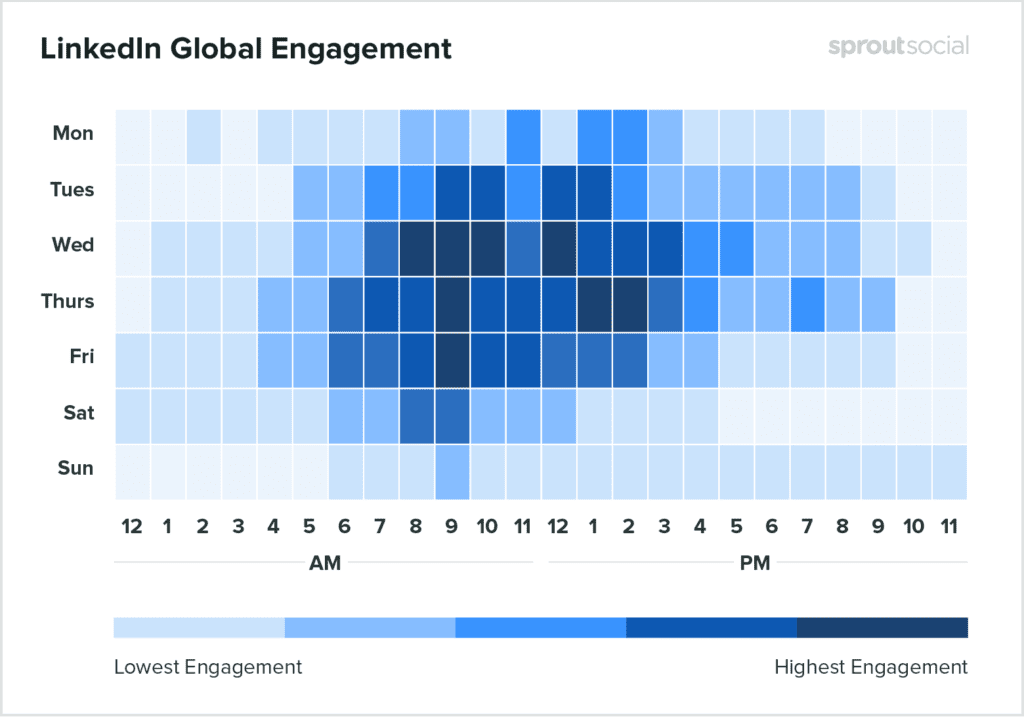 How Covid-19 has impacted the best times to post on LinkedIn
The Covid-19 pandemic has caused a shift across the board of social media when it comes to reach and engagement. The 'peak' times for posting to LinkedIn have shifted to later in the day, and regular engagement now starts later (8am instead of 7am) and ends later (4pm instead of 3pm).
Best 'lockdown' times: Wednesday at 3pm, Thursday at 9-10am and Friday from 11am-noon.
Check out this graphic from sproutsocial that shows how Covid-19/lockdown have impacted upon the best times for LinkedIn engagement.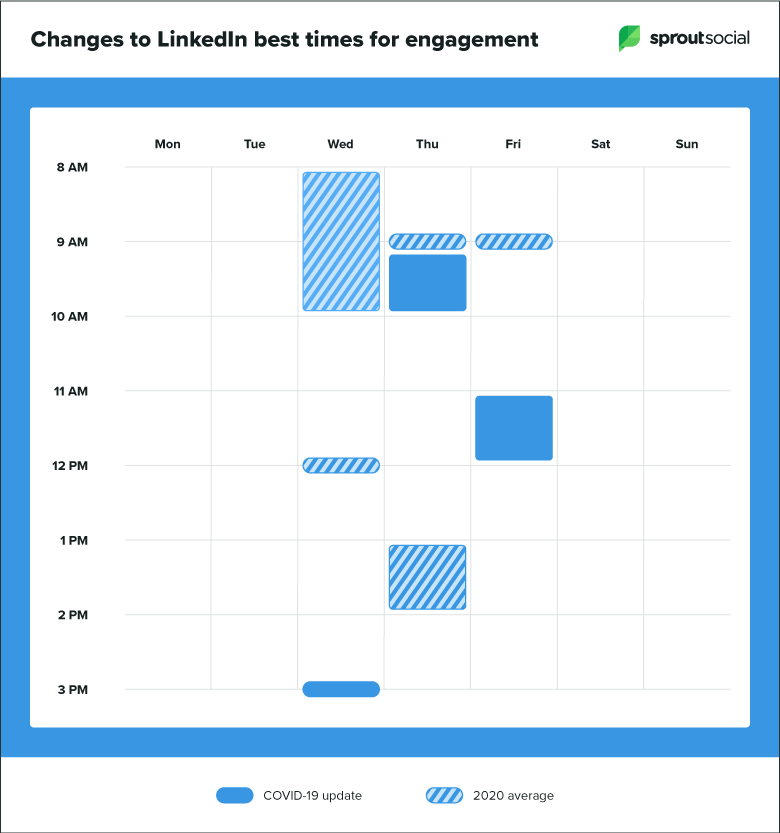 How to find your best times to post to LinkedIn
It goes without saying that every business and ever audience is different. While aggregated data can really help by providing you with a general benchmark the very best days and times to post to LinkedIn for your business will be unique to you. So by all means use this information as a starting point, but they are just that – a starting point – and not a copy and paste blueprint for success.
First, it's time for a educated guess!
Combine what the aggregated data tells you with informed guesswork.
Knowing your ideal client is so important when it comes to forming a social media posting strategy. Taking the time to know who you're trying to speak to on LinkedIn will make it much easier to decide on times to post.
Here are some things to consider:
Is your ideal client a business owner that's on LinkedIn during working hours?
Are they employees browsing social media during their commute, or at lunch time?
If your ideal client has their own personal brand on LinkedIn, are they active on the weekend?
Are they a professional parent, up at the crack of dawn with the kids?
Are they a night-owl. checking their socials and email late at night?
What time zone are they in? (If 10am GMT is still the middle of the night for your ideal client then ideally you'll want to post later in the day to reach your audience.)
By answering these questions you can posts on days and times that you think will help your content reach your ideal client.
Test your days and times for 3-4 weeks
The worst thing you can do when you're trying to figure out what days and times are the best for your business is to post haphazardly. This will make analysing your reach and engagement data nearly impossible as there will be too many variables.
Pick days and times and stick to them for 3-4 weeks so you can really see how those posts perform.
LinkedIn doesn't make it easy to review your analytics so you might want to use a spreadsheet like this one from Buffer. After a few weeks, is there a day and time that really stands out from the crowd? It's time to make note of this as being a 'best' day/time for your posting schedule.
Repeat this process with as many different days and times as you feel you need to build a full picture until you have a complete posting schedule. I recommend posting once a day to LinkedIn so ideally using this spreadsheet will help you establish a total of at least 7 optimal times per week.
If you'd like to know more about why I recommend posting 7 times per week on LinkedIn, check out How often should I be posting on LinkedIn to stay visible?
And if you found this article useful please don't forget to share it and I'd love to hear your thoughts in the comments ?
Do you struggle to 'show up' consistently on social media?
Social media can take up precious time you don't have when you're trying to run a private practice and juggle all of the other things. Check out my social media management packages to find out how I can help you show up, get visible and grow your online presence through social media.
Join the Koala VA mailing list
Koala VA's mission is to make social media simple for therapists. Through my social media packages, I help ambitious and busy professionals like you find more time in the day so you can feel more in control of your business and do more of what you love!
Wish your social media was simpler? Check out my social media management packages.
P.S. While you're here, don't forget to join the Koala Tribe on LinkedIn, Facebook, Twitter, Instagram and YouTube