Anyone who's spoken to me in the past year will know what a huge LinkedIn fan-girl I am. I'm all about getting authentically visible online and using social media in a way that feels true to who you are and what you stand for as a brand. That's what I always encourage my clients and followers to use a personal profile on LinkedIn to establish a personal brand, engage authentically, and nurture that know, like and trust with their audience.
But there are 30 million companies on LinkedIn.
You've seen them posting with their brand name and company logo and that might leave you wondering why, as business owners, we wouldn't want in on that company page action, right? Or maybe it all seems too faceless and corporate and you can't understand what a company page could possibly do for you when you're a sole trader or single person limited company running a private practice.
So should you be in or out?
For a quick answer, check out my Social in 60 Seconds video, and if you want a more in-depth answer be sure to keep reading.
Here's the truth: You definitely DO want in on that sweet company page action, and in this article I'll cover why and also why it's not as scary or time-consuming as it sounds.
What is a LinkedIn Company Page?
In addition to being able to set up an individual (or personal profile) LinkedIn also allows you to create a company page for your business. Whereas a personal page primarily showcases you as an individual, a company page represents your business on the platform. You can think of it a little bit like a business website/landing page or even a directory listing, and if a company has multiple employees they can all be associated/linked to this main company page.
Why should therapists have a LinkedIn company page?
There are 2 main reasons why I recommend all therapists set up a company page for their private practice:
You'll be more visible and discoverable online
LinkedIn company pages get indexed by search engines and rank on search engine result pages (SERPs). This means that when someone searches for your business name on Google a result will pop up for your LinkedIn company page as well as your website and other social channels. Company pages offer you another (free) opportunity to be seen online by potential clients.
It will provide you with that professional finish
Please, please, please don't use a logo as your profile picture on your personal LinkedIn page!
By setting up a company page with a logo you'll be able to link to it in your Experience/Work History section of your personal page.
So, instead of seeing this (a boring and unfinished looking grey icon):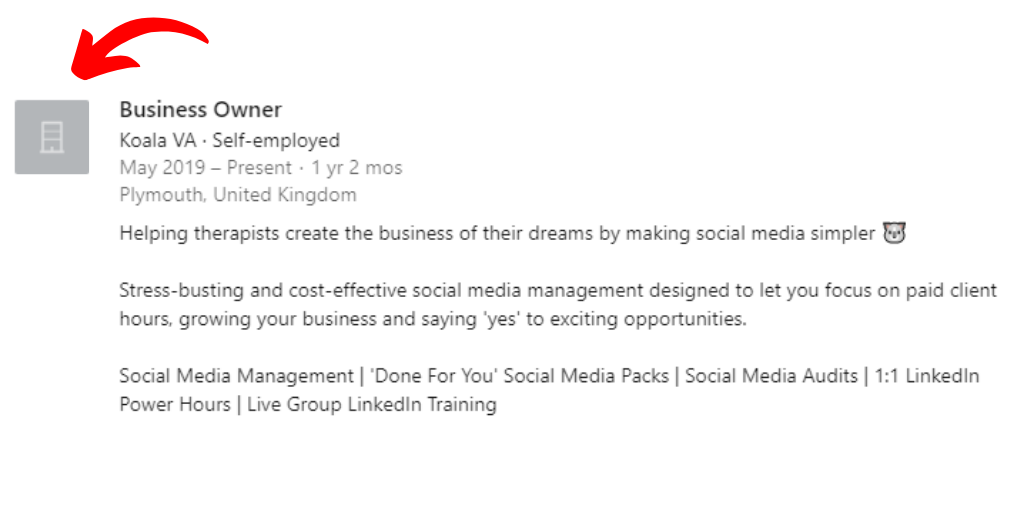 Visitors to your profile will see this (your business logo):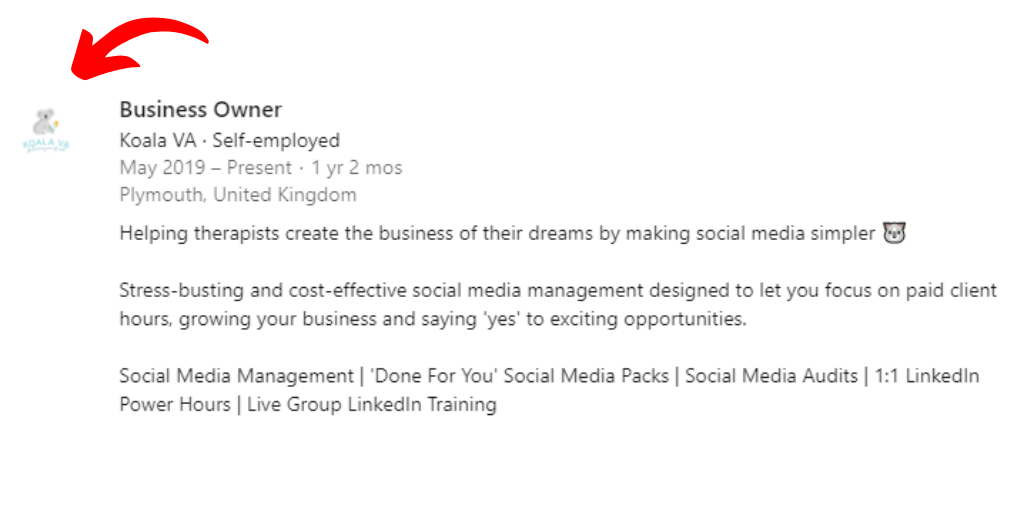 And what's more, they'll also be able to click on that logo and be taken to your company page!
Why you should focus more on your personal page
People want to connect with people, not faceless businesses
In 2020, businesses are expected to have personality. Gone are the days of businesses simply using the web and social media to broadcast well-controlled information. Audiences, clients and customers now expect brands to be part of the conversation and to actively engage with their community.
We all know the phrase, 'people buy from people' and that's absolutely true in the case of social media for solo business owners. You're the one dedicating your time and energy to providing and selling your services so it should be you and your personality shining through on LinkedIn. It's much easier to build that know, like and trust with your audience and engage openly with your community as yourself, representing your business and brand.
Personal pages are more complete
Personal LinkedIn pages give you much more opportunity to stand out from the crowd. Not only can you feature documents, links, videos (and more) but you can also detail you experience and work history, volunteer work and interests, articles and recommendations!
In conclusion
My advice to therapy business owners (and all other solo businesses out there) is to:
Set up a LinkedIn Company Page for your business
Complete the profile in full (and remember to keep it updated)
Link your personal page to your company page via the 'Experience' section
Use your personal profile for pretty much everything else
(You can, if you like, add a 5th step here.)
Post the occasional update to your Company Page feed to keep it 'active' so that visitors who end up there know that you're still alive and kicking on the platform.
If you found this article useful please don't forget to share it and I'd love to hear your thoughts in the comments ?
Do you struggle to 'show up' consistently on social media?
Social media can take up precious time you don't have when you're trying to run a private practice and juggle all of the other things. Check out my social media management packages to find out how I can help you show up, get visible and grow your online presence through social media.
Join the Koala VA mailing list
Koala VA's mission is to make social media simple for therapists. Through my social media packages, I help ambitious and busy professionals like you find more time in the day so you can feel more in control of your business and do more of what you love!
Wish your social media was simpler? Check out my social media management packages.
P.S. While you're here, don't forget to join the Koala Tribe on LinkedIn, Facebook, Twitter, Instagram and YouTube