Are you experiencing a summer slump in your therapy practice? As clients take breaks or holidays, appointments tend to thin out. But, here's the silver lining: this summer slowdown, while a tad challenging, can also be a blessing in disguise from a marketing perspective. Instead of fretting about those open slots, why not turn them into an opportunity? Let's use this time to finally get 'sort out my social media' ticked off your to-do list!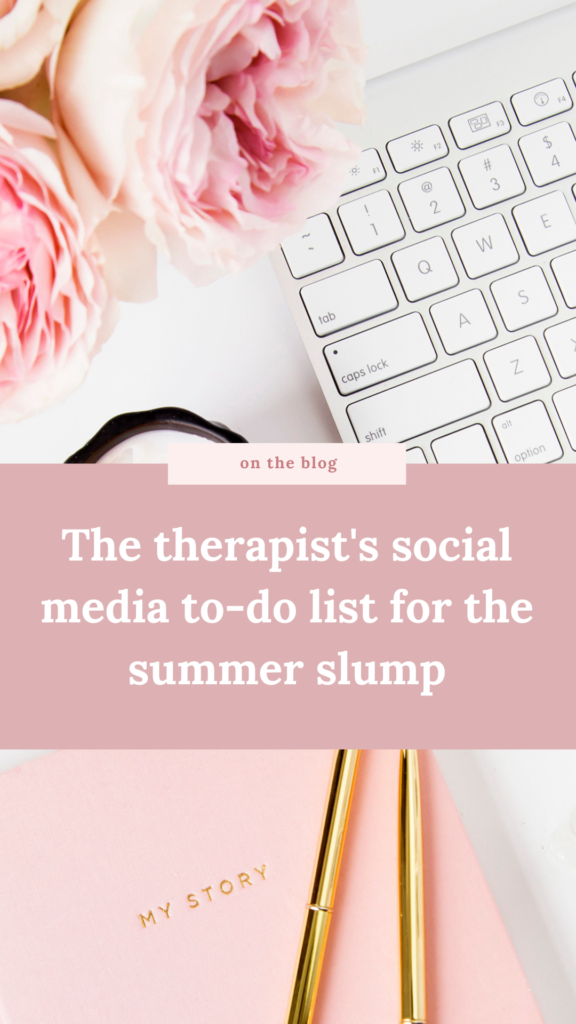 Audit Your Bio and Profile
When was the last time you took a good look at your social media bios? Now is the perfect moment. Update any outdated info, consider a fresher profile photo or even a new cover image. Think of it as a mini-makeover. It doesn't have to be a big overhaul, but even small changes can make a difference and help you put your best foot forward.
Re-Evaluate Your Social Media Strategy
Summer, with its slower pace, provides an excellent opportunity to take stock of your online presence. Use this time to delve into your past posts and identify what's been working and what hasn't. Remember, you don't need to start from scratch; just tweak what you've been doing and let it shine. Look at last summer's top-performing posts. What can you learn from them and apply this year?
Create a Content Calendar
Batching content is the ultimate stress reliever. Once you've mapped out the themes or topics you want to cover in the next few months, set aside some time to create this content. Write a few blog posts, design eye-catching graphics, or even record videos. You'll thank yourself later when you've got a stockpile of ready-to-go content when things get busier.
Engage with Your Community
Yes, summer is quieter but that doesn't mean it's silent. Use this time to connect on a deeper level with your followers. Reply to those comments you've missed during the busy months, start discussions, and gather feedback on your content. Remember, it's all about being authentic and real.
So, think of the summer slump as your secret weapon. It's a time to refresh, rethink, and rejuvenate your online presence. So, while your clients are taking a break, you're strategically planning ahead for the busier months.
And remember, if the idea of doing this alone feels overwhelming, you don't have to. Let me help you re-evaluate your approach with a social media profile audit packed with tips and advice on how to make more of your social media presence.