Are They Listening? An Overlooked Part of the Hypnotherapy Experience
Guest Post by Greg Mosley, Owner of Hypnostream (hypnostream.co.uk)
There will be many Hypnotherapists reading this so I'll start with a different perspective on what is likely a routine set of events for you.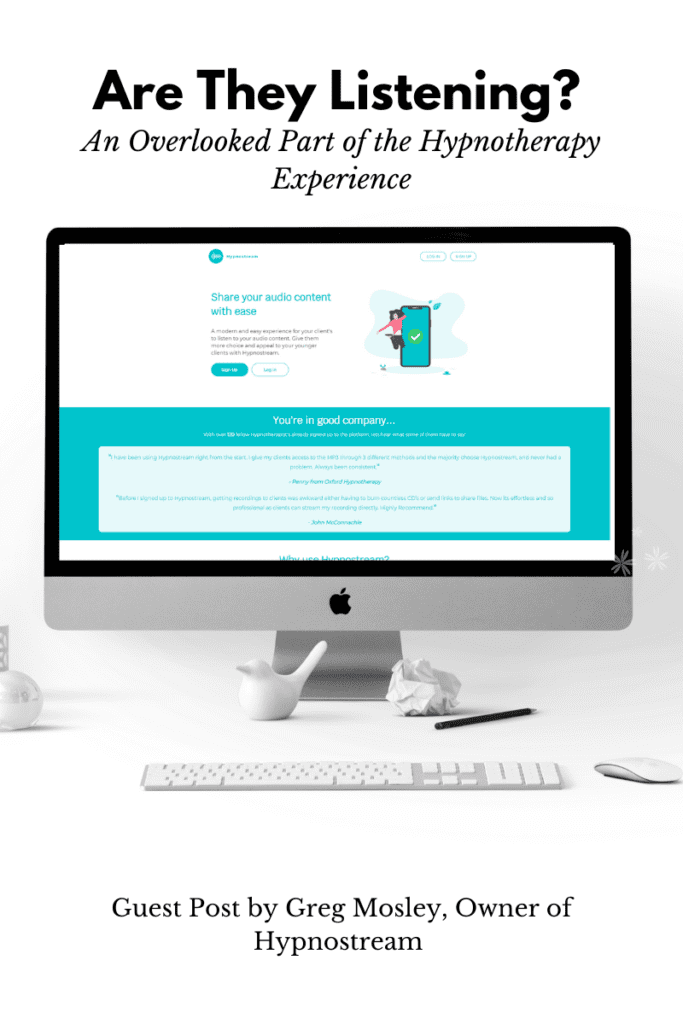 My experience visiting a Hypnotherapist for the first time
On a crisp winter's day I shuffled into a therapy centre and sat in the dentists waiting room-inspired padded chair, juxtaposed against the welcoming and warming environment in which it was present.
The waiting area had a disarmingly relaxed, peaceful and reassuring vibe which helped settle some nerves about my first Hypnotherapy session.
I was greeted warmly by the therapist and then ushered into the cosy therapy room. I was diligently and engagingly walked through a brief introduction to the session, what to expect and what I was looking to get from it.
So far so good.
I was instantly relaxed at what I had got myself in for. After being lulled into my meditative session on the couch, in what felt like next to no time, I was surprised to hear the session has ended. 45 mins gone in the blink of an eye! It was a very calming and restorative session all in all, and I felt positive. Of course it's different for everyone, but for me an experience to provide reflection and relaxation. I was then advised to continue to listen to the therapist's recorded audio to become accustomed to not only her voice but also to the process of entering the relaxed state.
All sounded good to me…
Except the therapist then hands over a CD.
Unfortunately as a gentleman of younger years I held the CD quizzically. I didn't have the heart to break it to the therapist that I don't have a CD player.
I left without having a way of listening to her recorded session until the next session, missing out on the myriad benefits of listening to the track between sessions.
CDs are no longer an effective medium
I'm sure many people aren't as rigidly British in not wanting to come across as impolite by rejecting the CD in favour of another format, but the problem remains valid. It may not be the be all or end all of your service as a Hypnotherapist, but it is part of the service you offer and it shouldn't be overlooked. In my experience above, I became disengaged from the process until I went back for the next session.
This is the experience that lead me down a path to creating Hypnostream; the audio distribution platform built solely and exclusively for the use of therapists to distribute their audio content.
I'm sure the more technical amongst you have already put together your own solution.
"Well Greg, I just pop the audio file into an attachment and email them it!!"

"Have you heard of Dropbox? I just send them a link to a Dropbox page where they can download my MP3 to listen to!"
I love it when people put together their own solutions, and it shows the ingenuity of the entrepreneurial spirit of all Hypnotherapist's out there. But here is why Hypnostream is a better solution to not only CDs, but email attachments and Dropbox links:
Simpler
The user can go from receiving your email to playing it in a simple, clean and purpose-built online audio player in simply one click.
That's it.
No waiting for downloading, awkward sign-up pages, dodgy adverts, or crowded screens that leave you more stressed than when you started.
They just click the link and boom, their track is in front of them ready to play.
Retaining control
Hypnostream is a streaming platform.
This means that you don't lose control over your source file. You trust your clients but I'm sure you wouldn't want your audio content being shared in lieu of paid sessions. With Hypnostream, your users only stream your audio content through us. You even have the ability to restrict access if needed, making tracks private so no one else can access them.
Designed with you in mind
We're a platform deliberately built for therapists and their specific needs.
This means we have a big road-map of very Hypnotherapy-specific problems that we are actively looking to solve.
We're planning to release our own Headspace-inspired Android/iOS app which allows you to provide your clients with your own app. With access to metrics, you'll see how engaged your users are and how this compares with other Hypnotherapists. This will result increased client engagement, leading to better outcomes for them and a more successful practice for you. This is one of the many things we are working on to try and help Hypnotherapist's to grow their business and improve their service offering.
Our vision is to build tools and solutions that help you to help others.
I would love for you to get involved and join the other 120+ Hypnotherapists who are already signed up. So feel free to sign up to Hypnostream at http://www.hypnostream.co.uk and upload your first track for FREE. You're always able to upload your first track for free, so if you're a Hypnotherapist that only has and wants to share only one track, you can use our platform free forever! 
Get in touch
If you have any questions or would love to chat, please reach out to me on [email protected] – I'd be happy to grab a coffee and find out more about how I can help you improve your service and grow your business.
Many thanks to Greg for sharing his experience and platform with us!
Are you a hypnotherapist that's looking for new ways of sharing your content? 
Let me know what you think in the comments below.
If you need help with social media, diary and availability management, graphic and imagery creation, website maintenance, or bookkeeping:
Get in touch for straightforward and affordable help from Koala VA and don't forget to connect with me on LinkedIn.
We've Got This.
Samantha is a Virtual Assistant and owner of Koala VA. Koala VA provides tailored and affordable virtual assistance and business support packages to private practice counsellors and therapists in the UK. Services include Social Media Support, Website Maintenance, Diary Management and General Admin.