As many of you know, my new Koala VA logo was designed and created by the lovely Victoria over at Isle of Design. My new logo got me thinking… what makes a good therapy business logo?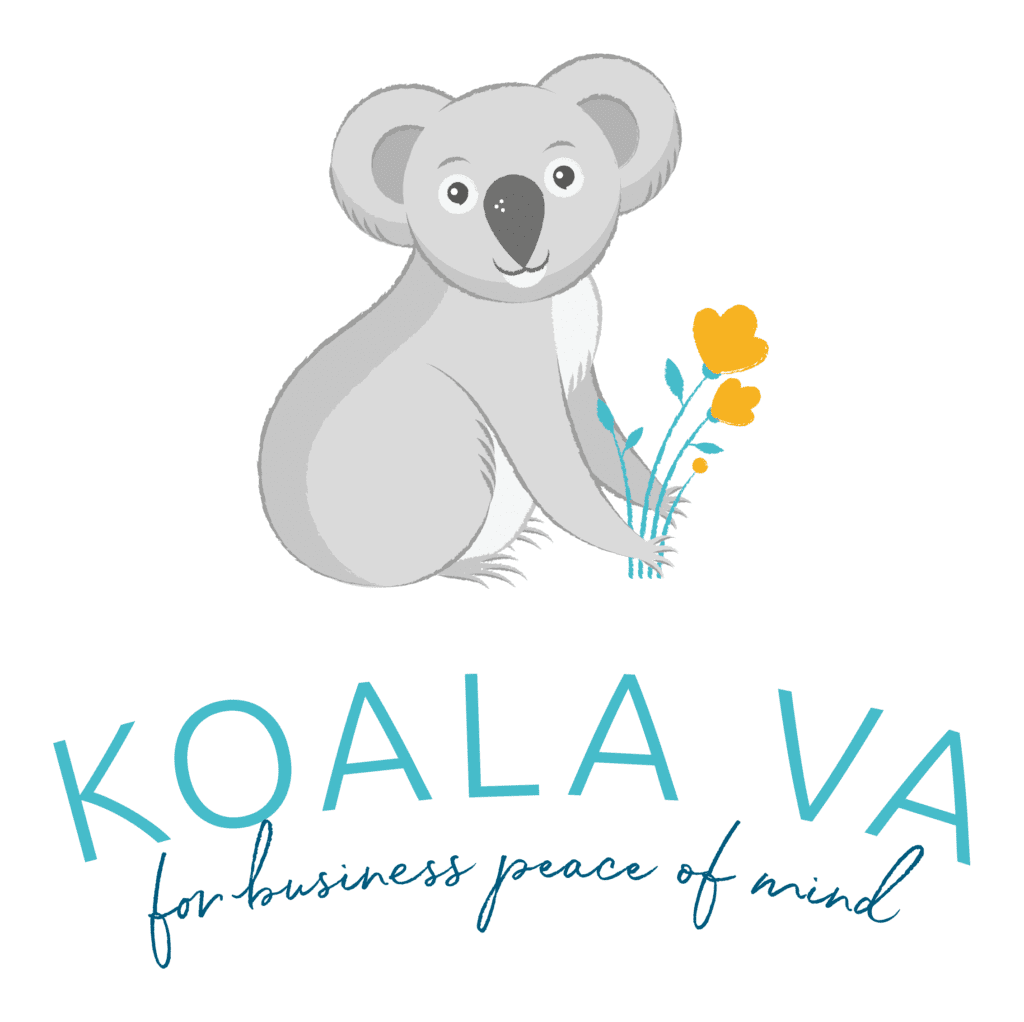 I've been lucky enough to speak with her about what makes a stand out logo… and what really doesn't! 
Let's dive right in 🙂 
Hi Victoria! Can you let my readers know a little about you and your background? 
Victoria: Hello! I'm Victoria, a 37-year-old enthusiast of cats, creativity and cups of tea! I was born and raised in Lancashire, but I now reside in County Durham with my lovely family, and work as a graphic designer and illustrator at my own little business, Isle of Design.
Isle of Design, was officially launched in 2017, after leaving a graphic design job at Hewlett Packard. It has always been an ambition of mine to have my own business, doing the thing that I love the most. 
Isle of Design specialises in both graphic design and illustration, therefore, you can get a custom logo for your company, while commissioning a bespoke illustration for your wall! 
Whether I'm creating a brochure for your business or an invitation for your wedding, the end result is ultimately the same – the desire to make someone smile! 
Samantha: As you know, Koala VA specialises in supporting therapy business owners. So with that in mind, what should the main aim of a therapy business logo be? 
Victoria: Everyone deserves to have a brand that they can be proud of, whether you're a mum about to embark on the world of self-employment, or you're an established company of 20 years. 
Branding is incredibly important for a business, as it makes you stand out from the competition, it provides you with your unique identification so you're easily recognisable, and it gives your customer an idea of what your business is about. 
A good logo is the main component of your brand, and so I work closely with clients to create an identity that you love, portrays your personality and encompasses the core values of your business. 
The name of your company might not necessarily translate what your business does, so this can also be achieved through imagery and/or a tagline.
Samantha: What makes a good logo?
Victoria: A good logo should tell your customer who you are and what you do while conveying the personality of you and your business. 
[bctt tweet="A good logo should tell your customer who you are and what you do while conveying the personality of you and your business."]
Ideally, you want it to be simple, unique, memorable and versatile. Because you should be using your logo on all of your marketing material, it needs to be legible and clear when both big and small. A vector graphic can be scaled to any size so this really is essential. 
Samantha: And what are the big logo design no-nos?
Victoria: Logos that are too complex, use inappropriate images, colours and fonts, or use clipart are a big no in my book! 
Not only could you fall into copyright infringement territory but you also run the risk of your logo looking like just someone else's. Your logo really needs to be unique to you and tell your customer who you are and what your business does. A generic-looking logo won't inspire your customers because it'll be clear you haven't put thought into your branding. 
Samantha: So, tell us a bit about what your client onboarding and design process looks like
Victoria: At Isle of Design, the logo design process is meticulous and simple, and I guide my clients step-by-step. 
It goes a bit like this…
Once you have contacted me regards your interest in logo design, I send you a graphic showcasing the different logo packages I offer (unless you have already seen them on my website). From here I find out which package you would like, or if you would like to create a bespoke one. Each package is different depending on your requirements, so you might just need a refresh of your original logo design, or you may want to start from scratch and require something more comprehensive.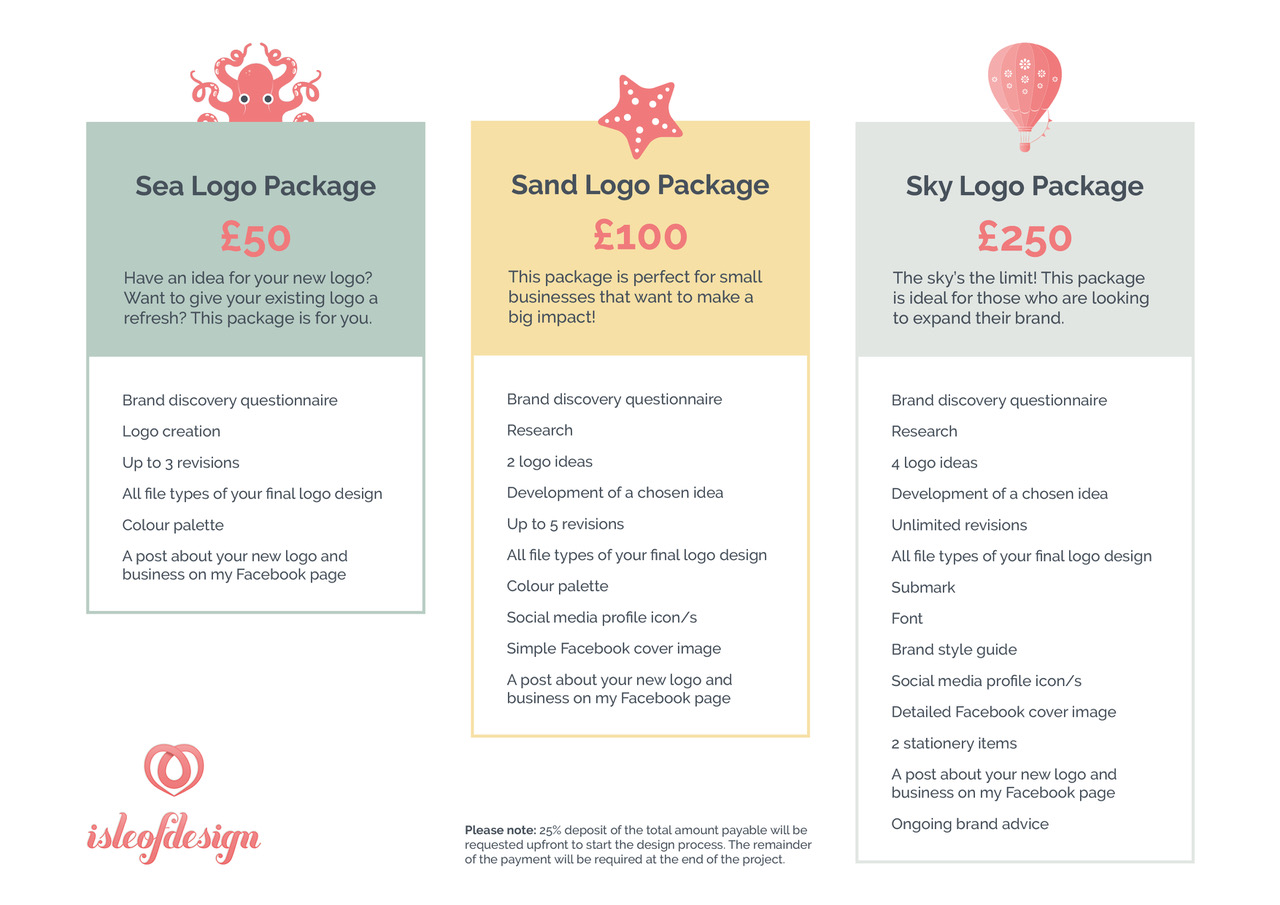 Once you have selected a package, you just pay a 25% deposit, which allows the design process to start. (The remainder of the payment is required at the end of the project.)
Each package contains a Brand Discovery Questionnaire, which I also email out to you. This is a series of questions where I find out more about you and your business, who your target audience is, and what you would like from your logo. I also ask for some examples of logos and designs that you like so I can gauge what your individual tastes are.
With this information in hand, I start the research aspect of the package, which is normally in the form of a Pinterest board. This is where I collect imagery, colours and fonts, which I use for inspiration. During this time, I'm also starting to think of ideas for your logo.
I then start to draw up the ideas digitally, while continually checking your answers to my questions, making sure that I tick all the boxes in your brief. I email these initial ideas over to you for any feedback. Normally an idea is selected to continue with, and it may be that you're happy with it exactly as it is, or it may need developing. Once you are 100% happy with the logo design, I send over an invoice for the remainder of the payment, and I start to create your final logo files. These consist of all file variations, such as jpeg, png and eps (vector). Once payment has been received, I email all your logo files over to you.
I keep you updated throughout the whole process, and encourage any questions you may have during and after the work is completed.
Many thanks to Victoria for taking the time to give us these essential pointers about what makes a good therapy business logo and the pitfalls to avoid. 
If you're looking for a new logo for your therapy business, Victoria is your girl! 
You can find her at https://www.isleofdesign.co.uk/ and don't forget to check out her amazing designs over on Instagram
Koala VA's mission is to make social media simple for therapists. Through our social media packages, we help ambitious and busy professionals like you find more time in the day so you can feel more in control of your business and do more of what you love!
Wish your social media was simpler? Check out our packages.
P.S. While you're here, don't forget to join the Koala Tribe on LinkedIn, Facebook, Twitter and Instagram