Are you finding the social media side of your business overwhelming?
Maybe dealing with busy platforms is eating into your valuable time, or perhaps you don't have a social presence yet and are feeling overwhelmed at the thought of getting started.
Either way, a social media manager can help you. 
While bigger businesses tend to recruit in-house social media managers, outsourcing the role to a freelancer is an excellent – and more cost-effective – option for small and medium-sized businesses. 
Working alongside you, a social media manager can take care of all aspects of your social presence, freeing up your time and resources to concentrate on other core areas of your practice.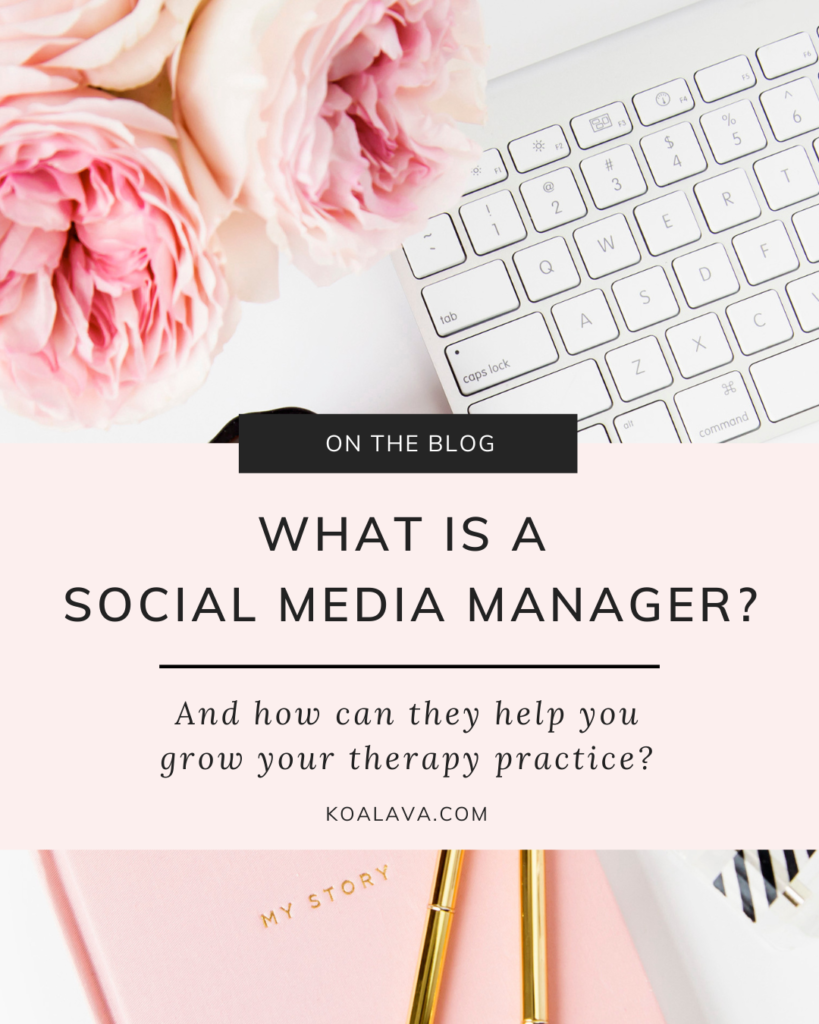 What's in a name?
While social media manager is a popular title for professionals who manage other businesses' social accounts, experts with the following titles often also offer social media services.
Social Media Marketing Manager

Social Media Marketer

Social Media Consultant

Social Media Strategist

Social Media Expert

Social Media and Marketing Consultant

Social Media Professional 

Social Media Specialist

Digital Marketing Consultant

Digital Marketer

Digital Marketing Professional

Marketing Consultant
Who do social media managers work for?
In short, anyone who needs them. 
Whether you're a business of one or a business of thousands, an influencer or an industry thought leader, a social media manager will run your accounts and help you get seen by more people.
You can hire a social media manager to run busy accounts, launch brand new ones or help grow existing accounts.
What does a social media manager do?
Short answer: A social media manager will create and post content to your social media platforms. They'll also chat with your followers or other relevant accounts (known as engaging) and provide you with a monthly report on progress.
Long answer: The tasks completed by a social media manager vary from manager to manager and also depend on your business needs. However, services might include:
Strategy creation to support your business goals

Channel auditing

Account creation

Page and bio optimisation

Creation of static social media graphics

Creation of short-form video for Instagram Reels or TikTok

Captions writing

Content strategy / calendar creation

Hashtag research

Competitor research

Industry research 

Liaising with you or your team for content approval

Live posting

Scheduled posting

Engaging with your ideal clients on their posts

Responding to comments on your posts

Responding to direct messages

Social listening – looking out for brand mentions on social media

Online reputation management

Dealing with negative comments online

Providing a monthly report of key performance indicators 
Lots of social media managers also offer one-off services including strategy creation, 1:1 consultancy, and group training and workshops.
How can a social media manager help grow my business?
A good social media manager is an invaluable asset to your business. 
Working to a bespoke strategy, they'll create and post content that speaks directly to your ideal client and makes sure your practice is discovered by more of the right people. 
Do social media managers work remotely?
If you're hiring a freelance social media manager – rather than recruiting for an in-house position – then yes, they'll work remotely. 
If face-to-face contact is important to you, then hiring a local social media pro would be the best option. This will mean they'll be able to attend meetings and also take photos of your business if that's part of their service.
How do I know if I need a social media manager?
If you're struggling to find time to post on social media, or are spending hours creating content that no one ever sees, it's time to hire a pro!
Here are 8 more signs you need to outsource your social media:
Social media makes you feel stressed

You don't know what to post

The constant platform changes baffle you

You're not sure if you're doing it right

You don't engage with your audience 

No one ever comments on your posts

Your follower numbers aren't growing

You never get any clients or sales from social media
How much does social media management cost?
In the UK, freelance social media managers typically charge between £500-1000 per platform, per month. 
The cost will vary depending on the level of service needed.
I offer bespoke packages starting from £500 per month depending on the level of service you require
Can social media managers guarantee results? 
Honestly? No. There are no guarantees with social media. But don't let that put you off. 
When you invest in a professional social media manager – someone who has the skills and knowledge to adapt to the ever-changing landscape of social media – you're giving your business the very best chance of success. 
How do I find a good social media manager?
Start by talking to me. I can tell you how I can help you reach your goals and, if we're not the right fit, I'll point you to someone from my extensive network.
Should I find a social media manager who specialises in my industry?
That depends on how important that is to you. 
Lots of social media managers specialise in particular fields – for example, I work with therapists – so it can be an advantage to work with someone who has a deep understanding of the work you do.
That said, it's not always essential. A good social media manager will have a range of clients and will be able to adapt their style to suit you.
Finding a social media manager who you trust and enjoy working with might be more important for you.
Ready to hire a social media manager? 
To chat about my social media management services, and how I might be able to help your practice grow, book a free discovery call with me.