As a professional social media manager I often see the same simple Instagram mistakes being made over and over again.
But the good news is, they're easy to fix.
In this blog, I'm going to share with you the most common mistakes I see made on Instagram so that you can put them right.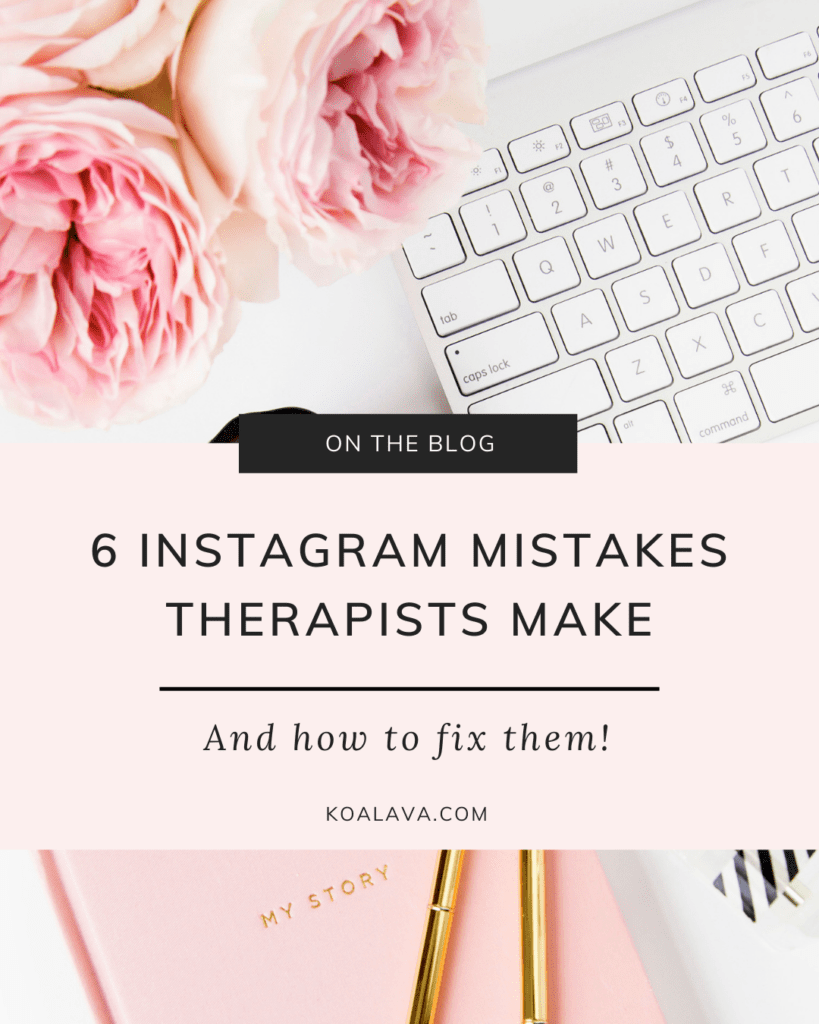 Your bio isn't clear
Like the homepage on your website, or the job title on your business card (does anyone actually still have business cards?) your Instagram bio should tell people who you are and what you do. 
When you use your bio to spell out the benefits of following you, your follower numbers will start to creep up.
In my bio, I tell people my name, what I do, and what they can expect from my content (social media tips and strategies for therapists).


A common mistake people make on their bios is not including their name. This can make it awkward for people to contact you, especially if your Insta handle is your business name. 
Both the @name and the name field of your bio are searchable on Instagram so double your chances of being found by making them different.
3 things your bio should include:
Your name

What you do and how you help people

A link to your website or a link page e.g. Linkin.bio 
You're not showing your face 
It's time to stop hiding behind a logo and put yourself out there!
I know this isn't easy and might make you feel uncomfortable but the fact is, people buy from people and being able to see the face behind the brand builds all-important know, like and trust.
If your company is a bigger organisation and a logo works better as your profile picture, make sure you feature lots of images of you and your team on the grid and in your stories. 
You don't know who you're talking to
When you're marketing your business online, it's crucial you understand who you're aiming your content at.
This allows you to speak to your ideal clients and customers in a way that resonates with them and addresses the challenges they face.
When you write generic copy – in the hope that it appeals to everyone – you'll alienate your ideal customers.
You're not using your insights
If you're not already looking at your Instagram Insights then you're missing a trick.
Insights are available on business accounts (this is an easy switch to make in your settings) and contain loads of valuable information about who your followers are, when they're online and which posts are performing the best. 
Once you know which content works well for your audience, you can do more of it. You can also experiment with different posting times based on the stats but don't get too hung up on them – the best time to post is when you have time to!
You're not engaging
I can't stress enough how important it is to engage with your own followers as well as other accounts on the platform – Instagram LOVES it.
If you're focused and purposeful you can do it in as little as 15 to 20 minutes a day.
Here's how: 
Respond to all comments on your own posts

Respond to DMs

Comment on five posts in your feed 

Got new followers? Comment on their latest post (you don't need to follow them back)

Look at who has liked your latest post – pick a few and comment or like their content 
Encourage engagement by including a call to action at the end of every post. It might feel a bit cringe to begin with but they work. Ask questions, ask for opinions… aim to start conversations.
You're not using hashtags
There's a lot of confusion around how many hashtags you should be using on Instagram but one thing's for sure, if you're not using any, you're missing out.
Hashtags help people find the information they're looking for. So when you use the right hashtags to tag your posts, you'll attract more of the right people to your content.
You can use up to 30 hashtags on your grid posts and Reels. Each one is an opportunity to be found by new people so make sure you include relevant hashtags on every post.
Want to learn more about using Instagram to boost your therapy business?  Book a power hour with me and I'll answer all your questions.