I think we can all agree that staring at a blinking cursor and wracking your brain for something (anything) to post about on social media is not how we want to be spending our precious time.
For times like those, simple social media prompts like these can help get those ideas flowing.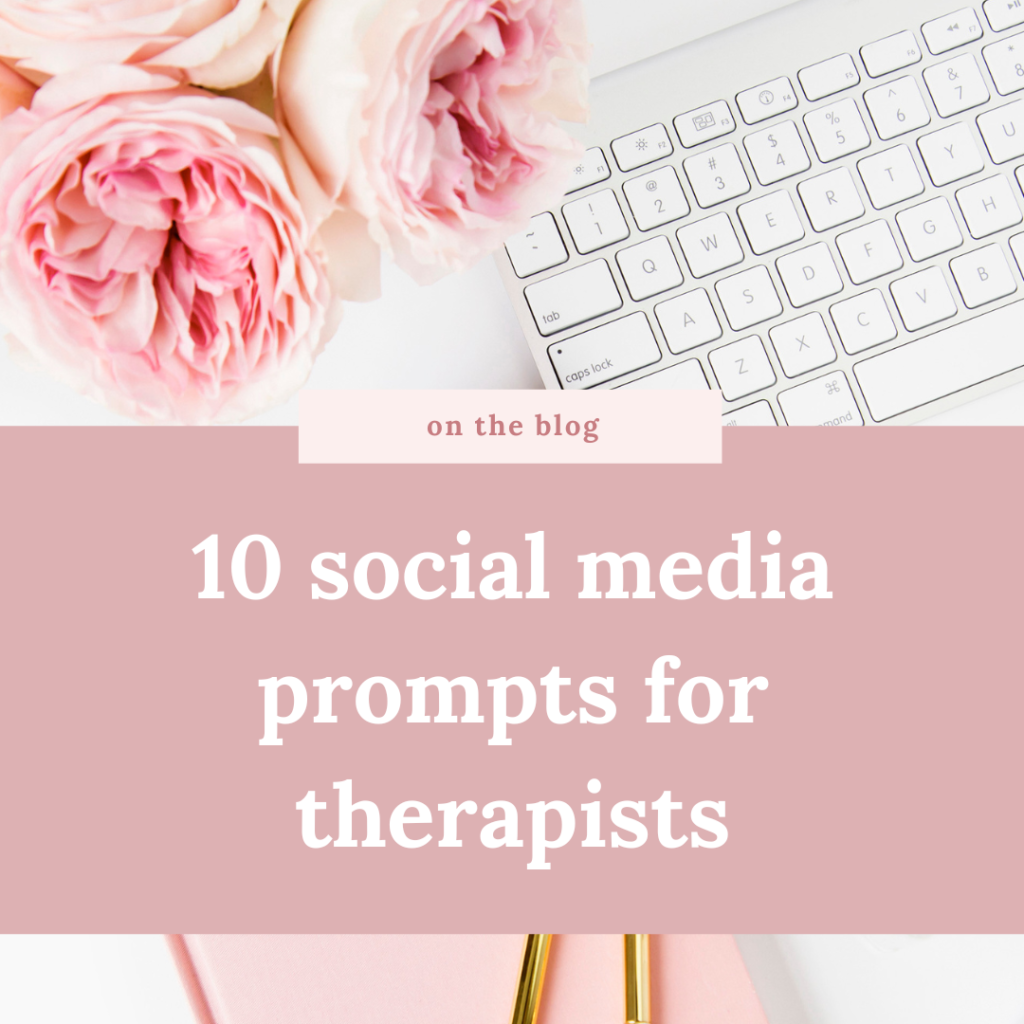 Here are 10 social media prompts for therapists when you're facing a mental block over what to post:
#1. Share a quote or tip about mental health and self-care quote or tip about mental health and self-care
Share something simple that will inspire, reassure, motivate or give someone a quick win.
#2. Share a behind-the-scenes look at your office or therapy space.
Seeing behind the scenes of your business can help potential clients get to know you better.
#3. Share a success story or testimonial from a client or colleague
As a therapist, you might not be able to share testimonials from therapy clients but do you have any workshop, programme or training feedback? Have any colleagues or other professionals recommended you on LinkedIn? Share those!
#4. Share a personal story or experience related to therapy
Starting therapy can be scary! If you've had therapy yourself, share a part of your own story about the therapy process or finding a therapist. You don't need to go into too many details – you're just looking to provide insight and reassurance.
#5. Share a resource or recommendation for mental health support
What books, podcasts or websites would you recommend and why?
#6. Share a photo or video of you participating in self-care activities
Give your audience a peek behind the scenes and let them see that you're committed to your own self-care. Don't forget to explain what you're doing and why.
#7. Ask for feedback or input from your followers
Want to know what your followers think about a certain topic or idea you have? Ask them! This could be an open-ended question or a 'this or that' style question.
#8. Share an announcement or update
Has something changed in your business? Are you embarking on something new? Tell your audience about what you're up to (and why it matters to them).
#9. Collaborate with another professional
Collaborating with others is a great way to expand your reach and share valuable resources to a wider audience. How about going live with another therapist to discuss an area of mental health?
#10. Host a Q&A or live session
Or simply go live yourself! Use it as an opportunity to answer the questions you're asked most regularly, or let people ask questions in the moment.
Go ahead and bookmark this list so you're never completely stuck for what to post about on social media again!